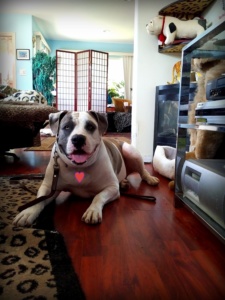 Meet A Phenomenal Bull BeauNiro!
Watch his video:
https://www.youtube.com/watch?v=umTgyuM7qQM
SHE IS A PHENOMENAL RARE BREED!
First American Bulldog I've been with who doesn't pull on a leash, so he is AMAZING on walks!
– Total Family Companion! – Loyal and Loving
– Loves car rides!
– Not high energy but LOVES walks.
– Loves friends and family.
– Loves taking naps belly-up.
Any dog lover will immediately fall in love with her. She is protective of her people and her home, and will be of great comfort and company to anyone home alone. She needs to be an inside dog, treated as a family member, and not left alone all day. She prefers adult company and would not be comfortable with kids or cats. She would be fine living with another dog after an appropriate introduction.
BeauNiro is sometimes too good to be true. She does not chew on furniture or anything else.
She's spayed, in good health, and current on all vaccines and vet check-ups. She needs a fenced yard as she will otherwise go exploring. She doesn't jump fences, and nicely obeys commands.
Purebred American Bulldog, a daughter of two show champions. She's a big girl, very cute (and knows it!). BEST FIT: Someone who will welcome her as a part of their family. She is only 3½ years old so her new family will enjoy a long life with her full of love.
THANK YOU FOR CHECKING IN: UnleashMyHeart@hotmail.com